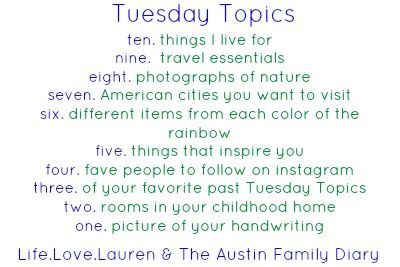 I am a total IG junkie. After I had my daughter in early December, I texted pictures of my perfect, adorable little girl to everyone in my family almost daily. I just knew that each one of my family members wanted to see every time her little eyes were open or any new facial expression or any time she was sleeping or breathing or anything...right? Okay. I probably went a bit overboard on the texts. Because over Christmas, my brother-in-law suggested I start using Instagram (for his own sanity probably). I honestly didn't know how to use it, but I quickly figured it out and the IG world has forever since been blown up with Belle and Bo pics.
I love Instagram, honestly, because it's everything I want in Facebook without the drama. I love staying connected to my close friends and families and seeing their pictures this way. I have SO many favorite people to follow on here. It is WAY too hard to pick just four, so here are my four favorites today.
Amberbugsbarbiesweddedbliss - This girl is hillarious! I love that she loves wine, mopping, her kiddos, and her husband.
Tiffanyaustin922 - This is a newer momma, like myself, just loving on her precious little baby.
Abrown0824 - One of my lifelong friends who loves taking pictures of her baby and dogs - duh, of course I love seeing those!
Hstrass4 - My little sis is hysterical and fun!
Haileydwan_ - This girlfriend has THE most adorable sons!
Okay, this was 5, but this one was way too difficult.
Happy Tuesday friends!