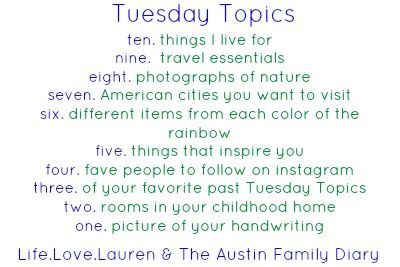 Okay, you all know how excited I am to be doing my very first link up! So excited I can barely stand it.
Thanks Tiffany at the adorable
http://theaustinfamilydiary.blogspot.com/
for teaching my how to link up. You are the best! Do you all follow her blog yet? She is the craftiest, happiest, new momma. And her little guy is so precious! I'm dying to meet up with her in real life ASAP.
I am getting in on this fun in the middle of her series, but I'm excited nonetheless. So here we go!
Red
Chiefs!! David and I (re)met at a Chiefs game 4 years ago. We love going to games and watching them on Sundays. And you all know how thrilled I am that MWSU hosts camp each year. I love it! And this year we got to take baby Belle to camp with us! She may be wearing pink, but it does have a Chiefs logo on it :)
Orange
I love pumpkin everything! I love pumpkin pie, creamer and lattes, candles, bread and muffins, and any other things you can think of! I love it! Fall is definitely my favorite season!
Yellow
Let's agree to call this gold, shall we? And if we can agree on that let's just agree that MU and MWSU are the best schools around! Fabulous.
Green
I have a green tea obsession! I love it warm or iced. I drink it every single day!
Blue
I get two for blue. One, our first little house was blue. I loved that house and each and every memory we created in it.
And two, the Royals! Duh. Annabelle got David Royals tickets for Father's Day this year and she will each year so they can go together.
Purple
Purple is my favorite color. My poor husband has put up with a ton of purple all over our house. I am drawn to it. I love purple clothes for both Belle and me and purple decorations. It was my wedding color and Belle's nursery color. What I think of the most in this color is this big bow we always make Annabelle wear. She wore it home from the hospital and in her newborn photos. And I still periodically put it on her to take pictures. She will wear it in a few family pics this Fall too.
Thanks for stopping by my very first link up! So fun!